Reading Time:
4
minutes
Last Updated on December 7, 2021
A visitor's guide to the city of Acre/Akko –  One of Israel's gems.
Acre (Akko – עכו) is a port city in northwest Israel on the Mediterranean coast.
The Old City of Acre (Akko) in Israel is a quaint place, well known for its well-preserved old city walls. Acre is one of the most ancient cities in the world with archeological findings dating back to the early bronze age (~3,000 BCE) and is also a UNESCO world heritage site. Walk along the ramparts on the Old City walls.  Take in the views and the sound of the waves pounding on the rocks.  In the market you will find culinary treasures, fabulous flavors,  aromas and colors.
Sight seeing and fine restaurants, a cultural festival and its proximity to the Galilee makes it a popular destination for Israelis and tourists from abroad.
Religious life in Akko
Acre is  a mixed city that includes Jews, Muslims, Christians, Druze and Bahais. It is holy to members of the Bahá'í Faith and many Baha'i pilgrims visit 'Bahjí'  where Bahá'u'lláh's spent the final years of his life.
Favorite things to do in Akko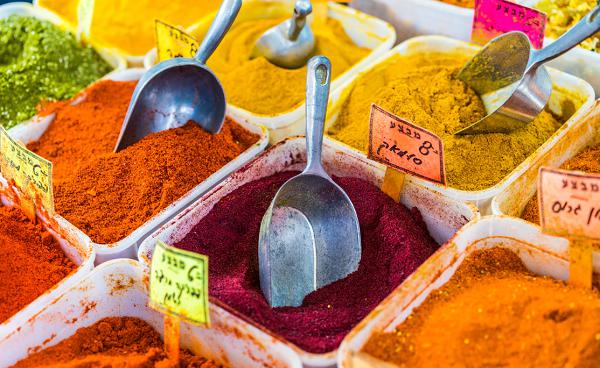 1. The Shuk
The Shuk or market in the Old City of Akko is a charming place.  A relatively small market, it offers a wonderful selection of authentic Middle Eastern goods, fresh fish, spices and traditional pastries and desserts like knaffeh (a sweet cheese filled pastry flavored with rose water and pistachio nuts).
2. Best restaurants and dining out in Akko
You can enjoy delicious hummus dishes at various restaurants throughout Acre's old bazaar. Expect a long queue at Hummus Said (one of the best hummus places in Israel) and remember closing time at Said's is 2:30pm (yup!). Akko is known for its excellent fish restaurants – try Donné and Abu Cristo restaurants – great locations overlooking the sea. (Uri Buri is closed temporarily – June 2021)
3. Annual events and festivals
4. The Tunisian Synagogue
A trip to Acre is not complete without a visit to the
Tunisian Shul (Synagogue).
A 4 story building is covered with mosaics from floor to ceiling. Scenes of ancient Israel, the Twelve Tribes, Jewish symbols and more decorate every surface; walls, floors, ceilings, stairwells and handrails.  Panel after panel of mosaics!  The doors to the main Ark (on the second floor), are made of silver and engraved with text and blessings.  If you have guests from abroad, they'll love it.  Free entrance but a small donation to the Synagogue is expected.
5. The Marina
Since medieval times Akko harbor was a bustling and strategically located port.  Today it is lined with fishing boats and yachts.  Boat rides are available.
6. The Museum of Underground Prisoners
The
Museum
of Underground Prisoners traces the history of the Jewish resistance fighters who were imprisoned or executed here. You can tour the prison cells and listen to an account of the prison's history. Some well-known prisoners were held there;
Zeev Jabotinksy
and Moshe Dayan. On May 4, 1947, forces broke into the prison and forty-one prisoners were freed.
7. The Templar's Tunnel
The Templar's Tunnel extends from the Templars fortress in the west to the city's port in the east. In the past, it served as a strategic, secret underground escape route that connected the palace to the port. The tunnel was discovered in 1994.
How to get to and around Akko
Akko is about 25km north of
Haifa
. It's a comfortable 25 minute car journey on the highway Route 22 from Haifa.   Akko is accessible by
train
from all over Israel and also by
bus
from the Lev Hamifratz central bus station.  You can also pick up a
sherut – a shared taxi
for about $5.  Akko is small and flat and walking is easy.
Akko travel tips
The streets in the Old City of Akko are made up of cobbled stone.  Wear comfortable thick sole shoes that give you adequate support.
Expect rain in December and January.  If you didn't pack an umbrella, you can easily pick one up in the shuk for about 10 shekels.
If you are planning to visit any of the religious sites, the mosques, churches, synagogues or Bahai holy sites, remember to dress respectfully and modestly. No mini-skirts, short pants or sleeveless shirts.
If you are visiting in the summer months, remember to drink plenty of water.  Tap water in Israel is safe to drink.
Getting to Akko
If you have a car, great! If not, Egged's 271 and 251 buses stop in Akko (from Haifa Lev Hamifratz).  There is also a sherut from Haifa (Herzl Street).  The Northbound train stops in Akko (final destination – Nahariya)
Oleh community
Akko is not known as an Aliyah destination for English speakers but Nahariya has a growing English speaking community.
Did you know?
Some scenes from the movie Exodus, starring Paul Newman, were filmed in Akko