Reading Time:
3
minutes
Adjusted 2019 Israel Election Results as reported by the Central Elections Committee (CEC) at 02.09am September 25th, 2019.
The Times of Israel reports – "The Central Election Committee announced after midnight Tuesday, September 25th, 2019 that following an investigation which found several instances of apparent election fraud, it had amended the election results and Likud gained an additional seat at the expense of the ultra-Orthodox party Yehadut HaTorah – United Torah Judaism.
6,394,030 Israeli citizens had the democratic right to vote in the 2019 September elections. 
Actual number of voters – 4,465,168
Spoiled votes – 28,362
Twenty three parties did not reach the minimum electoral threshold of 3.25%
The latest results gave Gantz's Blue and White 33 seats to Likud's 32. Third was the Joint List alliance of Arab-majority parties at 13, followed by the ultra-Orthodox parties Shas with nine and Avigdor Liberman's Yisrael Beiteinu with eight seats.
Rounding out the list were United Torah Judaism and Yamina with seven seats, Labor-Gesher with six and the Democratic Camp with five."
More about Israel's elections and electoral process…
These are the results:
Results on September 29th, 2019 after 98% of the votes had been counted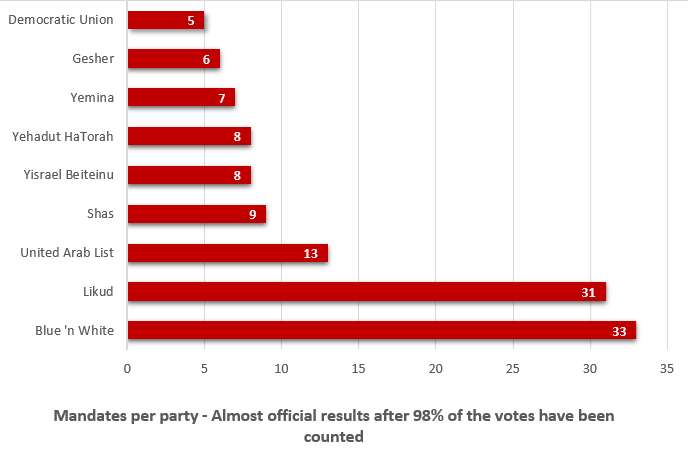 Results in percentages and actual votes
Number of votes as at 10.03 am September 19th, 2019
---
Number of votes as at 10.03 am September 19, 2019
Results in percentages at 08.06am on September 19th, 2019
Results in percentages as at 10.00pm September 18th, 2019
Results at 10:00pm September 18th, 2019
Results as at 12:00pm September 18th, 2019
Results published by CEC at midday September 18th, 2019
Predicted results by Channel 12 at 7:00am September 18th, 2019
Predicted results by Channel 12 at 7:00am, September 18th, 2019