Reading Time:
3
minutes
Last Updated on November 18, 2021
My favorite falafel recipe – tried and tested.
I started eating falafel in South Africa when I was about ten years old. My grandmother made her one and only trip to Israel in the early '70s and she brought back ready made falafel mix. Back in those days we were totally fascinated by this Israeli/Middle Eastern food and its flavor combinations but our falafel meals were always disappointing; the pita would fall apart and the hummus and tahina would leak.
Fast forward some 15 years – I've made Aliyah and have since eaten many falafels. I would prefer to make my own but have no idea how – all I manage to do is buy the ready mix in my local Israeli supermarket.
We devour many ready mixes over the years (regular Friday lunch). Sometimes I add sesame seeds for variation.
30 years into my Aliyah, ready mix falafel is still a staple until one day my daughter tells me she came across a recipe and "it's so easy, mom!"
Indeed, it was incredibly easy and it was delicious. No falafel I had ever eaten before or after, compares. Good bye ready mix!
Ingredients
500g dry chickpeas (a.k.a garbanzo beans) soaked for 24 hours.
1/2 tsp baking soda/baking powder
1 small onion, roughly chopped
1/4 cup chopped fresh parsley
1/4 cup chopped fresh coriander (kusbara in Hebrew)
6-8 cloves garlic
1 1/2 tbsp chickpea flour
1 3/4 tsp salt
1 level tsp cumin
1 level tsp ground coriander
1/4 tsp black pepper
1/4 tsp cayenne pepper
Vegetable oil for frying – canola, soya or sunflower oils all work well (NOT olive oil)
Directions
Soak the chickpeas in water, to which 1/2 tsp of baking soda/baking powder has been added, for 24 hours.
Mince or process all the ingredients together. If you are using a food processor, process small quantities at a time to ensure a smooth consistency.
Roll into balls and fry in deep oil until brown.
---
---
Chef's tips
Do NOT substitute canned chickpeas, they are used to prepare hummus!
If the mixture is too runny add chickpea flour until you get the desired and workable consistency.
If your mixture is too dry and does not bind, beat one egg and add it to the mixture.
I freeze my mixture (with the egg). I fill a large, 300ml, firmly packed, coffee mug with the mixture to the brim and then pack the mixture into zip lock bags. The coffee mug measure is enough for 2 large appetites' or 3 slightly smaller ones.
If I am feeling industrious, I roast chili peppers (and freeze them too) and add about 3 tsp to the falafel mixture instead of cayenne pepper.
Do not despair – the parsley and coriander turn the mixture into a shade of pale green.
Falafel are best served with a chopped salad of tomatoes and cucumbers, cabbage pickled in lemon juice, matbucha and lots of minced, roasted garlic paste. Hummus and tahina are mandatory. Some insist that Amba (a piquant mango sauce) is a must. Some say adding lettuce is sacrilegious while others enjoy their falafel with hard-boiled eggs, grilled eggplant or potato. The combinations are endless.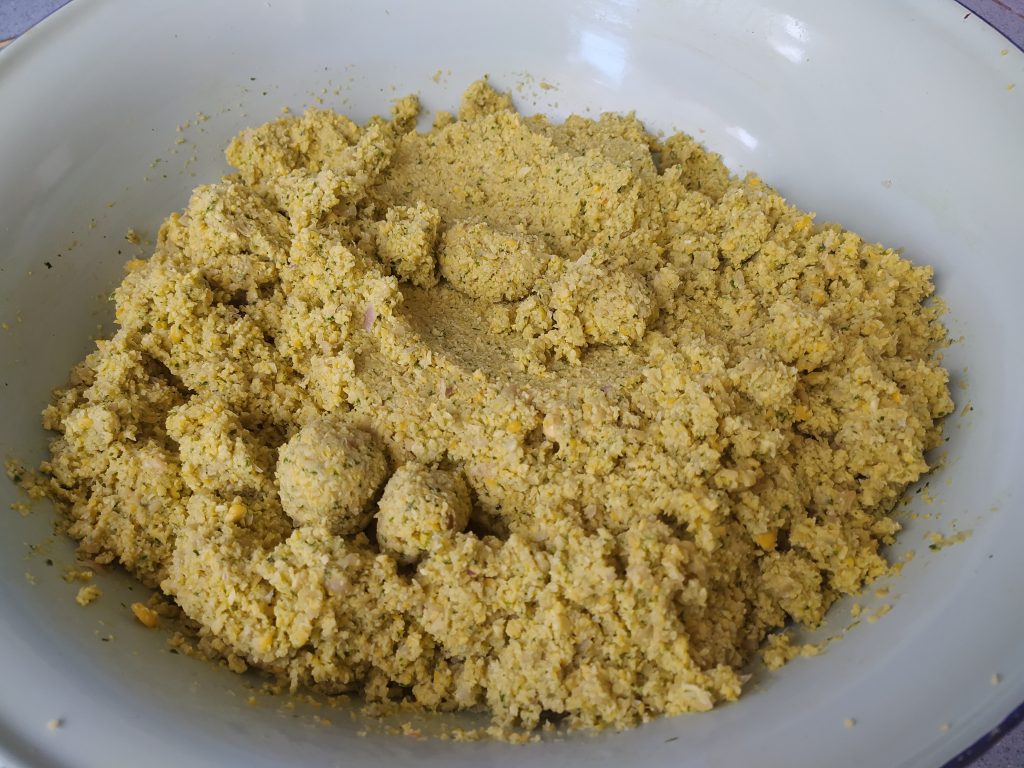 Betayavon! (Bon apetite)